Welcome to

A powerful new project lead search engine that delivers the project leads you want, from the decision makers you want to work for -- and the ability to pinpoint the critical information you need!
Request information today or call 888-720-1710!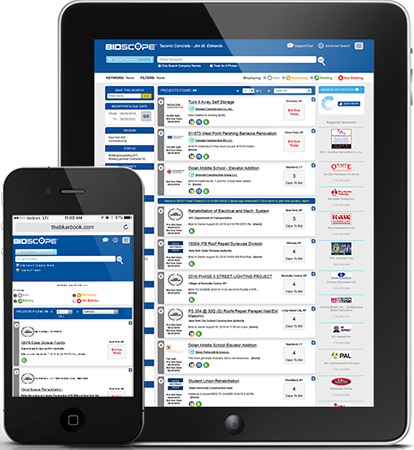 With BidScope's unparalleled content and functionality you can:
Store Searches
Save time looking for the projects you want and keep the ones you want easily within your sights — every time with the ability to capture and save your specific project scope!


Email Notifications
Start your day with a cup of coffee and the critical information you need with BidScope's daily updates on the projects you are tracking — keeping you informed of changes throughout each phase of the project.


Direct Search Access
Make smarter decisions and build more competitive bids with powerful access to digital plans and specs and all the critical information they contain.


Complete Profiles
Follow up and connect with the people you want to do business with by taking advantage of available accurate and complete information on decision-makers for every project.
Want an even more powerful search experience?

Streamlined Searches
Combine multiple keyword searches (up to 10 per search) into just one — eliminating duplication across your keyword searches


Advanced Targeting
Suppliers and MFRs — combine targeted trades and custom search filters to focus only on the projects you want to identify


SpecAlert®
You'll recieve a SpecAlert® nightly of just the projects and players that match your Bidscope+ Saved Searchs


Direct Delivery
Set-up a customized, daily data feed to your company's CRM system - enabling your team to follow up on opportunities immediately.